Our Dobes
"Fireax Striking Cleo T.D" or better known as "Princess Cleo"
DOB: 07.06.2007 - Pitured here with Mr Felix Lay - Owner of the proud Sire & Dam:
Sire: "RUBISS Multi BIG Au Ch Fireax Fancy A Bit" X Dam: "BISS O NRBCC Au Ch Fireax Striking Image"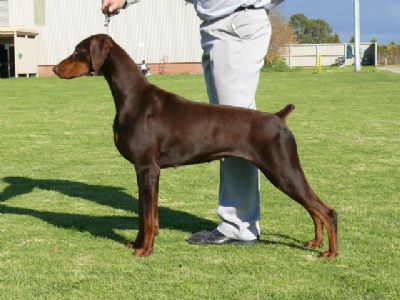 Our Princess Cleo:
Our Princess Cleo come into our family home on the 4th August 2007. Boy was this girl just the Ultimate! At such a young age she has factor, she has style, but most importantly.......... our girl has grace! This outstanding youngster has achieved so much already in her very, very limited showing carer, beating one of NSW top winning bitches from the minor puppy class, Mutli Challenges, Mulit Reserve Challenges, & Multi in group awards along her short journey. She is an exceptional bitch with lovely bone what an absolute "STUNNING" speciman of the dobermann breed she became. Unfortunately Cleo lost her fight with an injury and we heart breakinly had to set her free at the tender age of 3. She will always be my number 1 girl.
Fireax Classic Mastery ET or better known as DJ (Deedgey Boy)
DOB: 15.10.2005
Our Beautiful Boy DJ is out of Sire: "Ch Fireax Thunder Storm" & "Dam: Fireax Getz to Charm"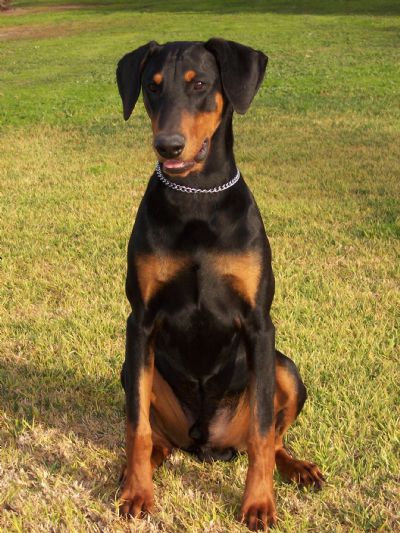 This chappy has certainly given us a run for our money. He is a wonderful dog, and truely stands at the Dobermann Temperment. DJ was welcomed into our home when he was 8 months old (after loosing his full litter brother - Fireax Classic Influence). DJ has been a somewhat challenging dog for us, as he has connected with us in such a way, he does not realise a world exists outside of ours. He is a VERY highly intelligent dog with a thrill to please. We are more than confident he will fullfill his roll in what ever challenge we throw at him along his journey with us.
Contact Details
Jamie Pendle
Morwell, VIC, Australia
Phone : H: (03)51342807 M: 0402850603
Email :
[email protected]