Puppies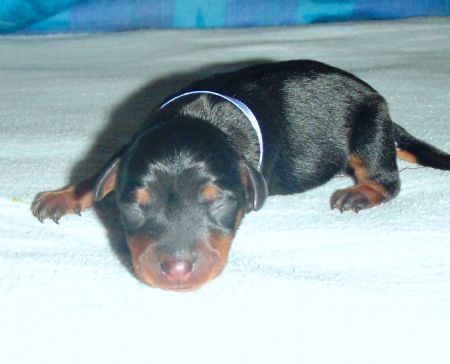 Puppies are very carefully planned & only occasionally bred. They will only go to select homes.
We ask YOU to ask YOURSELF these questions before enquiring about one of our puppies -
1. Have you researched the breed enough to understand what the breeds expectations of you are as their loyal leader?
2. Have you got the next 12-17 years to spend QUALITY time and ENDLESS LOVE with this beautiful breed, day in and day out, and not become board after 5-10 years or give them the flick when a family begins?
3. Do you have adequate fencing, warm places to keep them when resting?
and most importantly
4. Are you prepared to stand up and DESEX your pet to prevent unwanted puppies who could possibly end up in a Shelter due to non monitoring of puppies or offering "Return Policies"?
These questions are really vital and important when owing any dog, not just a Miniature Pinscher. These dogs mean the world to us, and we will lead you in the right direction when owing one. If you answered "NO" to any of the above questions, you should seriously reconsider owning any dog in your life at present, and especially one of ours.
People say our prices are too high, well we say "You get what you pay for", and that is a QUALITY bred puppy, not just a told story to sell our puppies.
These dogs can be fairly hard to breed at times, as they are only a Toy breed and bitches tend to have no more than 3-4 in one litter (if we are lucky), therefore we CANNOT custom to everybody's needs or preferences, therefore you may be waiting some time for a quality puppy.
We health test all of our beautiful babies and our main goal is to breed sound temperaments with quality in our upcoming puppies, minus the hereditary problems that can sometimes occur.
You will be assured that all of our puppies are homed with Health / Vet assessment's, Micro Chipped, 1st vaccinations, wormed every 2 weeks from birth, along with their very own puppy pack which will include bedding, toys, lead/collar, A feeding & Nutrition guide along with 2 weeks food supply. You will also receive a LIFETIME of breeder support regardless if they are pets or show companions. We will not skip on Quality.
*******ALL of our puppies are placed on a limited register and de sexed unless otherwise agreed to by us and this is in writing.
Show Quality puppies sometimes available, please enquire if interested.
I please ask that you do not compare other breeders of the Miniature pinscher, or ask me information about other breeders as we all have different opinions and offer different aspects & advice.
Dam: T.Ch Yiyanda Cheltobe Sassysin TSDX
Sire: Aust Ch Yiyanda Tordal Torro
Whelped 6/3/2013 - 3 beautiful boys and 1 stunning girl
( Photo coming soon)
Dam: T.Ch Yiyanda Cheltobe Sassysin TSDX
Sire: "Aust Ch Kimico Black Magic
Whelped 14/8/2011 - 4 HEALTHY GIRLS, 1 HANDSOME BOY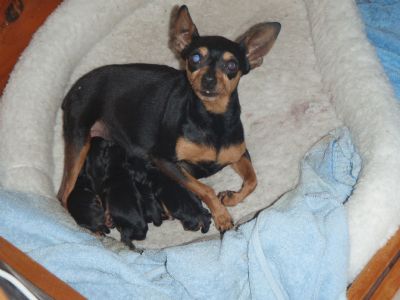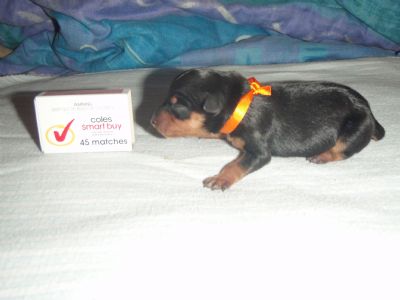 Dam: T. Ch Yiyanda Cheltobe Sassysin TSDX
Sire: BISS RUBISS Dual Ch (T) Yiyanda Torenv Turk TSD
2 very beautiful and healthy girls whelped 6/1/2010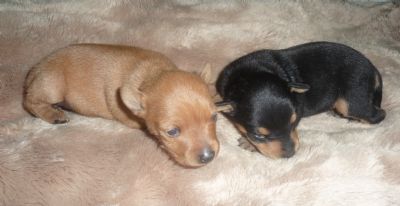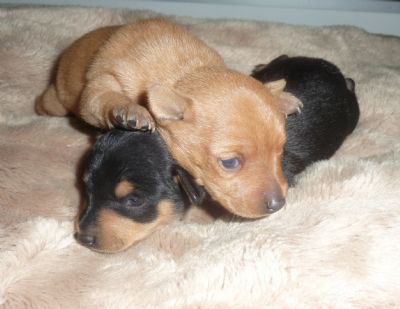 "Schontanzer Sucitup Princess" Aka Bella (Blk & Tan) & "Schontanzer Sucitup Blondie RN "Aka Whizzy (Red)
Contact Details
Jamie Pendle
Morwell, VIC, Australia
Phone : H: (03)51342807 M: 0402850603
Email :
[email protected]